My name is Nick Genereux and am the Master Taxidermist at Outdoor Addictions Taxidermy. I was born and raised in Crookston, Minnesota and grew up hunting and fishing. I attended South Dakota State University and have a degree in Wildlife and Fisheries management. I am a military veteran. I'm an avid sportsman having fished and hunted with both rifle and archery gear in multiple states.
I attended taxidermy school after completing college, and then opened my full-time studio after learning all aspects of taxidermy from the basics to advanced techniques. I have continued attending training sessions with multiple National & World Champions to learn advanced techniques and skills. I attend multiple taxidermy shows at the state, national, and world level competitions each year. These events allow me to compare my work to other taxidermists, continue to improve my quality, and learn the best up-to-date techniques. I regularly bring everyday customer work to these competitions, and have won most of my awards with them, some highlights are listed below. For a more thorough list see the Awards Page.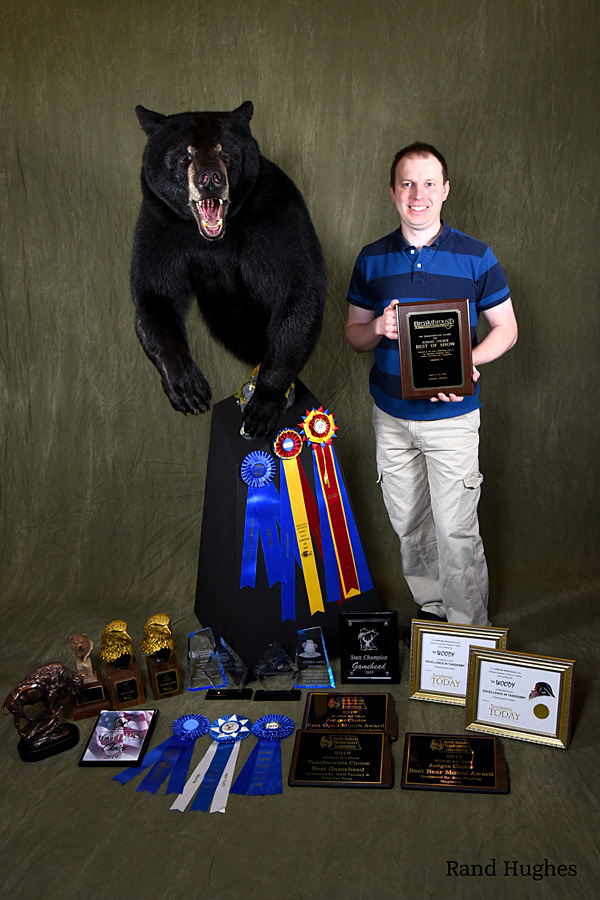 Minnesota State Taxidermist of the Year
2-time National Champion
13 time plus Multi-State Champion
2x Minnesota Judges Choice Master's Best of Show
3x South Dakota Best All Around Taxidermist
Many top deer, elk, and bear awards
Custom Taxidermy
Award-winning, Master-level quality
Quick turn-around time
High quality commercial tanning
Competitive pricing
Life-like mounts
Accurate anatomical forms & high-quality components
Quality starts with you in the field. View our Trophy Care page for tips on field care.
I start by properly prepping hides for high-quality commercial tanning. This ensures a great looking hide that will last for many years. I use only top-quality components along with the most accurate forms available to create the best-looking mount possible. I apply multiple layers and colors of paint, not only for fish, but on deer and other mammals as well, for the most life-like look. Using the most modern and up-to-date techniques, along with reference materials, helps ensure a realistic, life-like mount you will be proud to show off for years to come.
European mounts are sent to be cleaned by beetles achieving the best possible cleaning without damaging the bone. They are also degreased, whitened, and sealed for easy cleaning.  Additionally, customers can choose custom hydro dipped colors and designs.